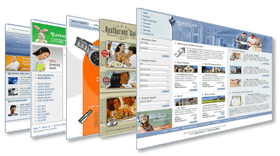 Creative, Professional Website Design
Design. Such a simple word. But what better word can be used to describe all of what our design team here at NYDesignGroup can do for you and your company? Our design team can do it all: from printed media to logo design and brand identity.

Creativity is in our blood, and can be seen throughout one of the many sites or print designs we have produced. Almost anyone can learn to use HTML editing software, but that does not make them a Graphic Artist or Web Designer. A select few of creative people are required to fully realize and capture a vision for the web or for print. At NYDesignGroup, we have some of those 'select few' working with us. Our creative staff produce graphically appealing and search engine friendly websites time and time again.

A basic website for business is smart business. Your website is a marketing and sales tool. At a minimum, your website should consist of 1 to 5 pages and include a Home Page, Contact Us Page, About Us Page, Services Page or Products Page. Colors, logos and creativity dress up you site for a graphically appealing presentation. You can also view our website template packages.You're site's content should encompass all aspects of your business in such a way that it prompts site visitors to visit you over and over again and search engines to rank you higher and higher and higher.